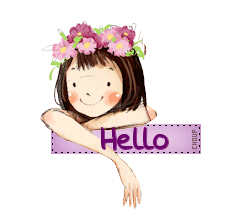 Ca y est notre RR inter club se termine enfin...OUF !
Il y avait une telle pagaille dans les rotations que j'ai cru qu'on n'en verrai jamais la fin... :0)))
Mais ca y est, tout le monde a recupere sa toile sauf Vivy, car Susan n'avait pas fini son motif et a repris la toile de Vivy pour completer sa "cafetiere". Elle la lui enverra a Jerusalem.
Voici donc les derniers motifs.
Here are the last round robin's works...
Toile de Rolande : "L'ecole" "school"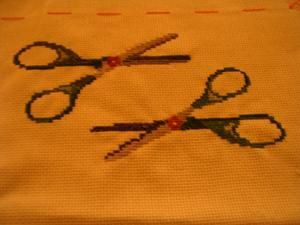 Susan a brode des ciseaux.
Susan embroidered the scissors, above.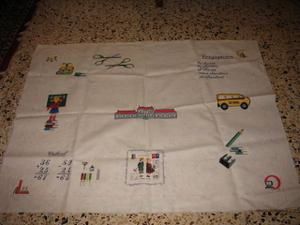 Vue d'ensemble...
Toile de Myriam : "Les 4 saisons" "4 seasons"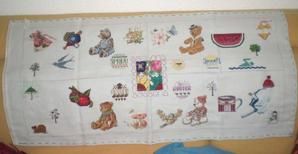 Vivy a brode 4 petits arbres. Ce sera la derniere particitpation de Vivy qui ne fait plus partie de notre club depuis plusieurs mois deja, mais a quand meme tenu ses engagements pour la ronde jusqu'au bout.
Vivy embroidered the 4 little trees.
Toile de Vivy : "Thé ou café"  "Tea or coffee"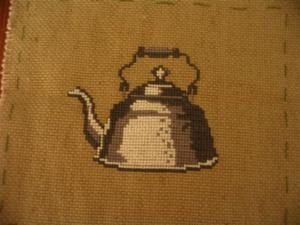 J'ai brode la bouilloire.
I embroidered the kettle.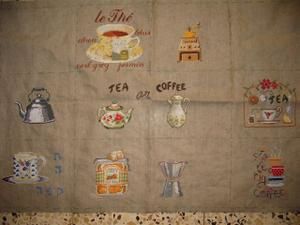 Vue d'ensemble.
Nous venons de commencer une nouvelle ronde d'un genre nouveau... Je vous en reparlerai le mois prochain ;0)
A suivre....
We've started a new kind of round robin. I will tell you more about it next time...
To be continued....